Posted by ORIS S.A. on 27th Nov 2022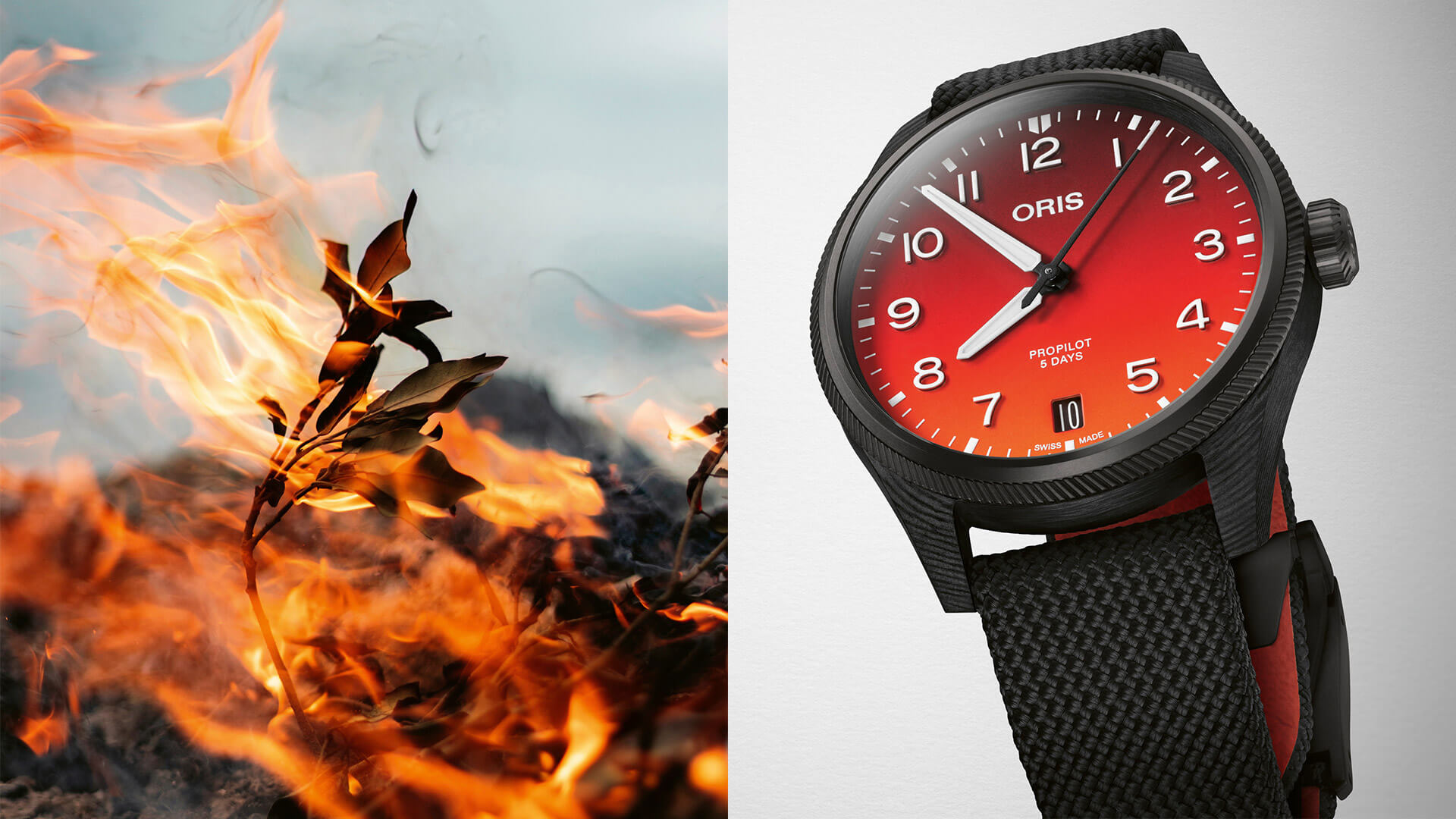 Oris ventures into new territories with aerial firefighters Coulson Aviation and a watch with a 3D-printed carbon fibre case produced using an innovative process that appears in watchmaking for the first time.
At Oris, they're working on a number of fronts to bring Change for the Better to our planet and its people. They are now independently certified as a climate neutral company, and they work with pioneering agencies to bring change that will make this world a better place.
In that light, they are extremely proud to announce a new partnership with Coulson Aviation, the world's leading aerial firefighting organisation. Based in Canada, the family-run independent company sends pilots, planes and equipment to areas of the world affected by wildfires. In the Northern Hemisphere summer, that's chiefly the US and California; during the Southern Hemisphere's summer,
Its resources are split between Australia and South America. The vision: to crush fires and assist firefighters on the ground, and to protect life and the environment.
Coulson Aviation was founded in 1960 by Cliff Coulson as a logging company, but under the leadership of his son Wayne, it has diversified over the past.
"Coulson lives by two questions: how we can help the most, and how can we do it better?"; four decades, chiefly in the area of aerial firefighting, using proprietary technology and innovation to bring effective relief in time-sensitive emergencies.
Now led by Wayne and his sons Britton and Foster, the company lives by two questions that also echo in the corridors of Oris's Hölstein factory: "How can we help the most, and how can we do it better?"
Together, Oris and Coulson Aviation have worked on the Coulson Limited Edition, a carbon fibre watch with a vibrant orange dial reminiscent of fire. Turn the page to discover what makes it unique.
To mark this important partnership between Oris and Coulson Aviation, Oris has created a watch based on the Big Crown ProPilot and inspired by the innovation and daring spirit of the two independent companies.
Its most striking feature is its fiery, gradient orange dial, a clear symbol of the perilous environments Coulson's brave pilots rush towards while most are obliged to turn away.
Surrounding it is a carbon fibre case produced using an innovative, patented 3D printing process never seen before in watchmaking.
Devised by Switzerland's prestigious ETH Zurich university (Swiss Federal Institute of Technology), it prints carbon fibre and a high- grade polymer developed in aerospace called PEKK simultaneously, weaving them together to create an ultra-lightweight, extremely rigid material. The process is so precise that you can fix the material's pattern, where typically carbon fibre watch cases are random.

Completing the high-tech, lightweight profile are a grey-PVD-plated titanium fixed bezel, screw-down crown and case back, and a black textile strap. The watch, movement included, weighs just 65 grams. This is also ORIS' inaugural execution of a limited edition piece that features a sapphire see-through exhibition caseback: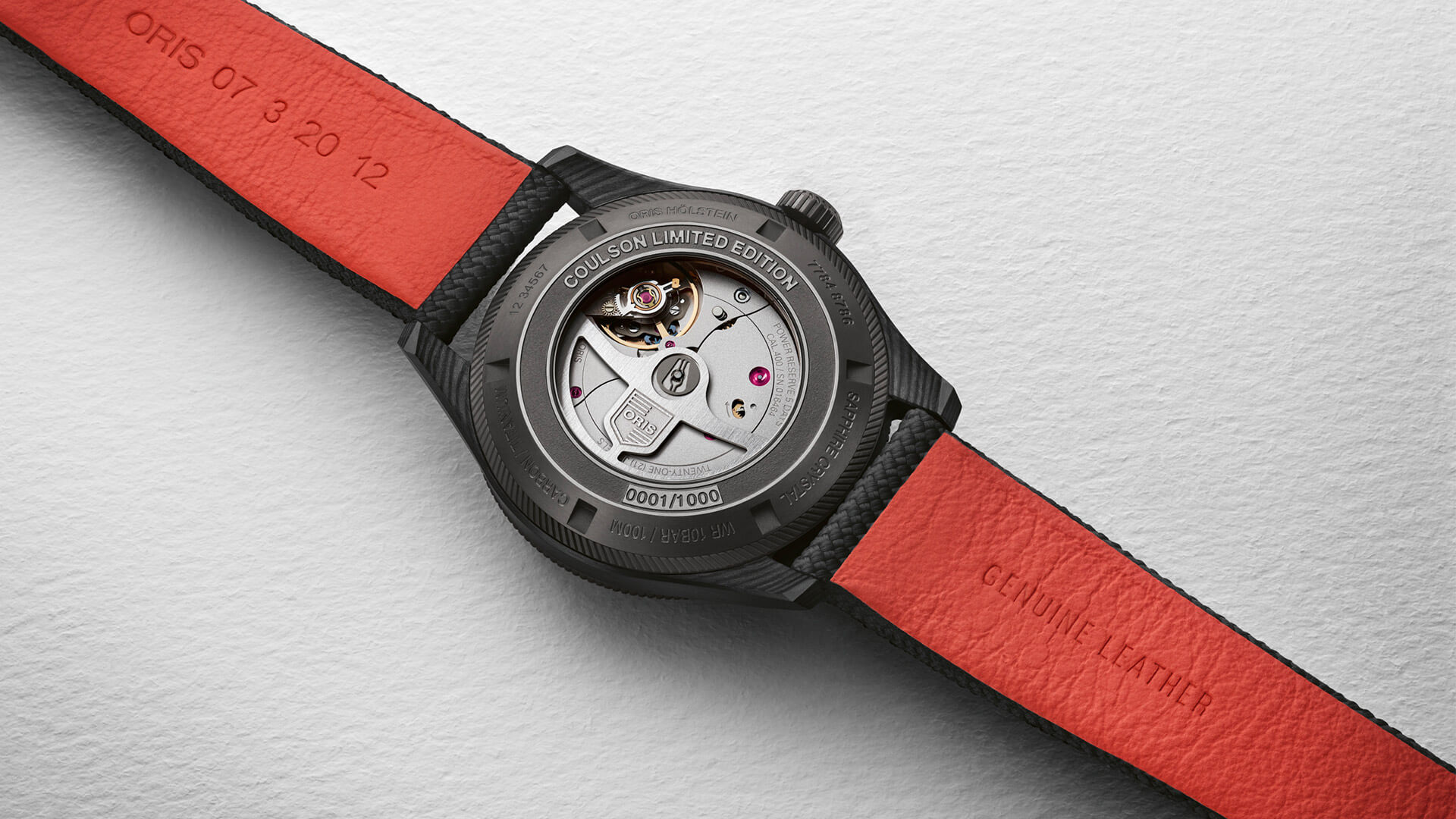 Inside it is Oris's equally innovative, highly-anti-magnetic five-day automatic Calibre 400. This piece is a limited edition of which only 1,000 pieces will be made.
Visit the link below to purchase now: